[BOOK REVIEW]: A Not So Meet Cute ♥️ By Meghan Quinn
GRAB YOUR OWN COPY HERE
BREAKDOWN OF THE BOOK
Genre: Billionaire Romance/Romance Comedy
Age Appropriate: 18+ for some spicy spice spice
Triggers: If you are listening on audio, EAR MUFFS when the kids are around!
BOOK VIBES
GLIMPSE INTO THE BOOK (EXCERPT)
How did you two meet?

The quintessential question asked to every couple. And the answer is usually some bubbly, lovey dovey tale of being struck in the bum by Cupid's arrow.

My meet cute (well not so meet cute) is slightly different. I, Lottie, was trolling a wealthy neighborhood in Beverly Hills, searching for someone to take me as their bride, you know, to make my arch nemesis jealous who consequently just fired me.

Huxley was stomping around the block like some sort of gorgeous ogre, mumbling about a business deal gone wrong and attempting to finagle his way out of it.

And that's when we bumped into each other.
There were no sparks.
Not even a hint of blossoming love.

But next thing I knew, I was scarfing down free chips and guac, listening to this man lay out all of his problems which led to his big ask . . . he wanted me to be his Vivian Ward, you know, from Pretty Woman--minus the frisky behavior.

We're talking about living in a mansion, intimate double dates, and pretending we were head over heels in love . . . and engaged. Can you imagine?

The absolute audacity.

But people do crazy things when they're desperate. And I reeked of desperation. So, I struck up a deal.

My one big mistake, though . . . big . . . HUGE? I accidentally fell for the incomparable Huxley Cane.
SPICE/SMUT LEVEL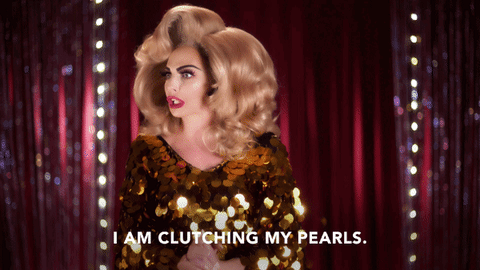 ---
TAKEAWAY
The story gave off some heavy Pretty Woman movie vibes (minus the hooker part) and I'm not hating on it. I loved the banter between the two and the tension building throughout the book. Meghan Quinn sucked me in on the down-on-her-luck FMC with the sarcastic tongue and I stayed for the alpha-male turned soft marshmallow just for her MMC.
If you are looking for a good banter love story with some spice making you want to "clutch those pearls" then snag your copy of A Not So Meet Cute... you'll fall in love with Huxley and Lottie just like I did.
RATING ⭐️ ⭐️ ⭐️ ⭐️ ⭐️
If you decide to devour this book (like I did), then fill me in on your thoughts via DM >> HERE << .
Until then, keep reading!
Create Your Own HEA,
Morally Gray Babe